Sligo Champion
26 February 1916

"Thoughts on Maugherow."

Far from cherished scenes I live
In pensive mood asthore,
My thoughts revert to days I spent
Nigh Rockley's rugged shore;
When nature all seems hushed to sleep
And twilight softly weaves its spell,
On fancy's mystic airy wings
I float to Lissadell.

I see once more the schoolhouse grey,
And mingle with that happy throng
Whose sounds of mirth I e'er regret,
Those kindly smiles—that happy song
Which waked an echo in my breast,
And made me feel a child once more
To wander happy, gay and free
On the Atlantic's shore

'Tis evening and the crescent barque
Beams softly down on feathery foam
Whose spray a myriad tints reflect
Soft lights that glow in mermaid's home.
I pause, the deep toned Angelus
Its sound vibrates o'er wood and lea,
And sends its message echoing far
To friends across the sea.
A calm, sweet peace steals o'er me
As Knocklane castle comes in view,
What history to my mind it calls,
Of days when Ireland brave and true
From Connaught hills and valleys green
Sent hosts prepared at war's dim cry,
For God, for Erin, Justice, Truth,
To conquer or to die.

A scene more beauteous, wildly grand,
Enchanting in the waning light,
Was Lissadell—the haunt of nymphs—
When first it graced my sight;
The world recedes, a scene appears
Of magic softness. Poets may tell
Its charms divine, but justice nee'r
Can pen sweet Lissadell.
Choice perfumes wafted from the flowers
A thousand odours sweetly grand
To charm the senses; please the heart
By zephyrs lightly fanned;
The cadence of a dying song
Whose notes replete with sweetness fell
From nigh the vault of heavenly dome
To dwell in Lissadell.

The stars their dewy radiance shed
On golden strand as on I stray,
What happiness, content was mine;
What dreams of love, oh nought can say
What vision snow its mem'ries bring,
What bitter loss! What keen regret
That I should leave sweet Maugherow,
Leave thee as I met.

Ah! well I mind that happy day
When from the Cartroon strand I strayed
With friends courteous by my side
To view the "Punch Bowls" nature made;
The glorious sunshine filled the air
With harmony, serene, divine,
I thought no place could equal thee,
No sun more brightly shine.
Though fortune's star beams brighter far,
Since homeward I returned again,
Yet e'er I sigh, but sigh in vain
For one fond glimpse of that dear glen,
Where oft in boyhood's changeful moods
It cast o'er me its magic spells,
And makes me long with dear delight
For lovely Lissadell.
JAMES LENNON


Sligo Champion
19 August 1916

BALLINTOGHER
By ROBERT J. MILNE.
(From "The Pilot.")

Ballintogher, Ballintogher, far beyond the Sea,
Dear little Irish village, my thoughts go back to thee;
To thy purple heath-clad mountains and they shamrock vales below,
Where I built my fairy castles in the dear old long ago.

Ballintogher, Ballintogher, where the twilight gently falls
Upon the little lonely lake by Castledargan walls;
The lovely valley stretching out, the peaceful homesteads all,
And the happy, smiling faces, how often I recall.

Ballintogher, Ballintogher, with the olden village school,
'Twas there I went with comrades true to learn the golden rule;
The cheerful teacher always kind, God rest his soul I pray,
I seem to hear my gently voice within my heart today.

Ballintogher, Ballintogher, with Cartronhugh beyond,
Where first I met my boyhood love, my little sweetheart fond.
I seem to see her once again going down the shady lane,
As she plucked the wild flowers blooming there and wove a daisy chain.

Ballintogher, Ballintogher, I see a vision true,
A gentle, grey-haired mother, with eyes of Irish blue;
And out across the ocean her thoughts full often roam
To one of all her children who's far away from home.

Ballintogher, Ballintogher, shall I ever more behold
Thy glorious green-clad valleys by Castle Dargan old?
There's a longing ever present, and in dreams I'm often there,
Amid those scenes of childhood and happy faces fair.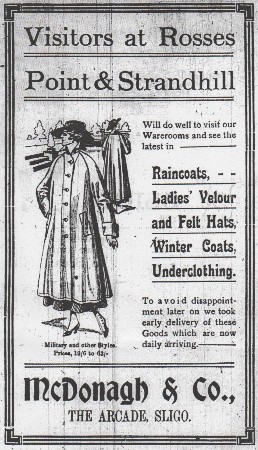 Sligo Champion
2 September 1916

A Holiday at Strandhill.

I've been to many a watering place,
At home and far away,
Old Bangor and Bundoran sweet,
*Dunoon and Rothesay Bay,
I've been to famed Killarney,
And that lovely place, Moville,
But I'll ne'er forget the fourteen days,
I spent at sweet Strandhill,

For bathing and for merriment
'Tis famous far and wide,
And invalids their health regain
Down by the ocean side;
The old folk, too, feel happy,
As they roam about at will,
And enjoy the balmy breezes
Down at famous sweet Strandhill.

In summer time and harvest,
When the days are fine and long,
This is the time for holidays
To keep you well and strong;
And if you seek enjoyment,
And you want to laugh your fill,
Have a fortnight at the seaside
And be sure it is Strandhill.

We had visitors from Britain
At the "Waverley" Hotel,
And the "Star" and the "Atlantic"
Were all crowded up as well;
They were there from every county,
And from every vale and hill,
All came to spend a holiday
At famous, sweet Strandhill.

Soon my holidays were finished
And I had to go away
From that lovely little village
At the foot of Knocknarea;
So I left the lads and lassies
That I'll see no more until
We meet again next summer
Down at famous, sweet Strandhill.
M. J. KEARNS.
Geevagh, Co. Sligo.
*Two watering places near Glasgow, Scotland.


These three topographical poems have contrasting styles. The "Thoughts on Maugherow" is a self-conscious effort at a poetic composition inspired by a remembered landscape. The "pensive mood" reference of line two sets the tone and the author uses heightened poetic language and style throughout.

The author, James Lennon, seems to have spent some time in the Maugherow area of north Sligo in his youth though this was not his home. Of the 243 James Lennons in the 1911 census and the 229 in 1901 none lived in county Sligo. Few Lennon families were recorded in Sligo in either census and none living north of Sligo town.

Robert J. Milne was a Sligo native who emigrated to the USA in 1912 and apparently settled in Boston. He had a similar poem, originally published in the Boston Globe, published in the Sligo Times in August 1912. This Ballintogher poem was first published in the Boston Catholic newspaper the Pilot which claims to be the America's oldest catholic newspaper, having been founded in 1829. The Pilot acquired a reputation of being an Irish-American cultural newspaper and among its notable editors was the Fenian and poet, John Boyle O'Reilly.

Milne's poem is a standard Irish emigrant lament with references to the valleys, the mountains, the schoolhouse, the sweetheart left behind and the mother thinking about her children far away. It has disappointingly few details about Ballintogher.

Michael Kearns' account of his holiday in Strandhill is a jaunty Irish song with simple language and rhythms, which follows the pattern of such compositions. It does include some seaside placenames from Kearns' time in Scotland and mentiones some of the Strandhill hotels by names. Strandhill was bein promoted and developed as a seaside resort at the time.